A key challenge in evaluating comprehensive community health initiatives is how to document and illustrate the unfolding of the intervention; that is, the multiple changes in the environment that can lead to widespread behavior change and improvement in population-level outcomes. Using online graphs, community and research partners can examine the rate of community/system changes over time, or allow for systematic reflection on the proportion of changes occurring in different sectors.​
To begin, click on the Graphs link in the left navigation bar.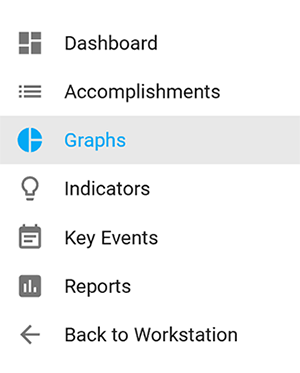 You will notice a Help documentation link to Graph Help in the upper right. That link will open a new window that takes you directly to this documentation.
As graphs are added to the site, they will appear in an alphabetized list on the graphs page. The graphs will feature an icon representing the graph type, along with the assigned title, created or modified date, and the date range of the graph.
Click Filter Graphs if you want to select graphs by title, created or modified date, or created or modified by name.
Click on any folder or graph to open and view it.